We're excited to announce that DriveQuant will sponsor the 5th edition of the Paris Fintech Forum. Meet us on January 28-29th at Palais Brongniart in Paris, former French Stock Market.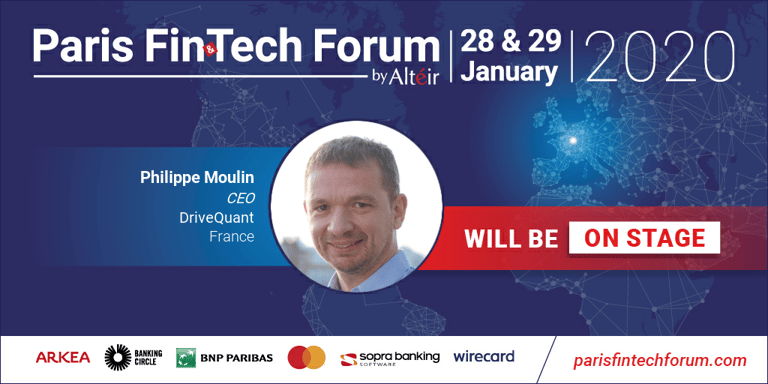 Paris Fintech Forum 2019 gathered 2,700+ attendees from 75 countries over 2 days, to listen to 280+ CEO's from banks, insurance, regulators and Fintechs. The forum is dedicated to addressing all key issues at the heart of the news of digital finance in general and Fintech in particular in a mythical place: the former French stock market exchange.

Paris Fintech Forum will be back next January 28 & 29 for its 5th edition under the high patronage of M. Emmanuel Macron, President of the French Republic. The host has identified DriveQuant as a game-changer Fintech and decided to invite Philippe MOULIN (CEO) on stage on January 29th - Stage 4 - 12:05. The session, Adoption rate of disrupting innovations in key insurance vertical, will be moderated by F. Graillot (astorya.vc) and will feature Tanguy Touffut (CEO, Descartes Underwriting), Soren Obling (CEO, Finabro) and Raphael Kakon (CEO, Moment).
Access the full agenda here. And contact us below if you want to schedule a meeting there with Philippe.