PARIS, MARCH 31, 2020 - The European pioneer in mobile telematics takes another step towards the universality of its driving analytics solutions. DriveQuant provides automotive and mobility professionals with all of its connected services via DriveKit: a library of tools and functionalities to transform any mobile application into a telematics and driver coaching device.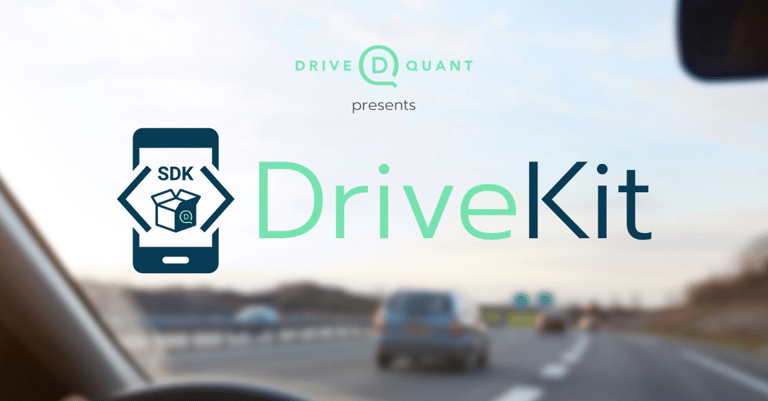 What is DriveKit?
Since its creation in 2017, DriveQuant has been developing and improving a universal solution to connect vehicles and enhance the value of data collected for professionals: motor insurers, fleet managers and service providers, car distribution and maintenance networks, car manufacturers, rental companies and mobility service operators. DriveQuant is the European specialist for mobile telematics, a technology that uses sensors in the driver's smartphone to analyze motor vehicle trips and measure the influence of driving style on safety and energy consumption.
In order to make its solution accessible to the broadest possible audience in the shortest amount of time, the DriveQuant engineers have developed DriveKit, which combines their expertise in the fields of telematics, data analytics, and user interface development. DriveKit is a universal library of services that will enable all project/product managers to quickly adopt services that meet their users' evolving needs. How? Thanks to the deployment of functionalities that can be easily integrated by digital experts (mobile, backend, or web developers and data scientists).
Services for safe driving, eco-driving, connected vehicle maintenance or drivers communities management...
DriveKit includes all the services developed by DriveQuant over the last three years to help drivers improve their driving, reduce road risk, decrease the environmental footprint of mobility and optimize the costs related to the consumption and wear and tear of their vehicles.
DriveKit contains several SDK (Software Development Kit) and API (Application Programming Interface) modules to deploy functionalities for assessing driving safety (safety and distracted driving scores), estimating fuel consumption and eco-driving, coaching and monitoring drivers, animating communities via gamification features (driving challenges, badge collections) and for day-to-day vehicle maintenance and management (predictive maintenance, connected logbook).
Olivier Grondin, Product & Innovation Director at DriveQuant explains:
« DriveKit is a natural evolution of our product whose DNA is flexibility. For DriveKit we have focused on portability and modularity so that our customers can integrate our services in a minimum amount of time. Our ambition is to offer a very advanced, comprehensive and pedagogical mobility data analytics product that Product Managers or Developers can quickly adopt »
Services that can be integrated with a few lines of code into any existing application
The services included in DriveKit can be integrated into any mobile application (iOS and Android) via SDKs or into web applications via APIs. The library provides the tools to automatically analyze, organize, store and display driving data.
Each DriveKit module is documented to understand its use, value, and operation, with code snippets, graphics libraries, access to DriveQuant APIs, and a demo application for developers to test their integrations. DriveKit technical documentation is available at docs.drivequant.com.
Anthony Corbeaux, Chief Marketing Officer at DriveQuant adds:
« Our service offering is unique on the market as it was built through dozens of partnerships and innovations in the areas of road safety, ecodriving, vehicle maintenance, fleet management and the development of connected car insurance offers. DriveKit is like a toolbox whose objective is to help our partners deliver new services with high value for their users, based on simple interfaces. »
Do not hesitate to contact us to learn more about DriveKit. You can also consult our technical documentation via the button below: