PARIS, DECEMBER 10, 2019 - DriveQuant, French pioneer in Mobile Telematics, is launching a new offer for fleet managers. LÉA is a turnkey solution dedicated to improving road safety consisting of a mobile application installed on the smartphone of fleet drivers that allows them to analyse their driving behaviour, coupled with a driver management platform.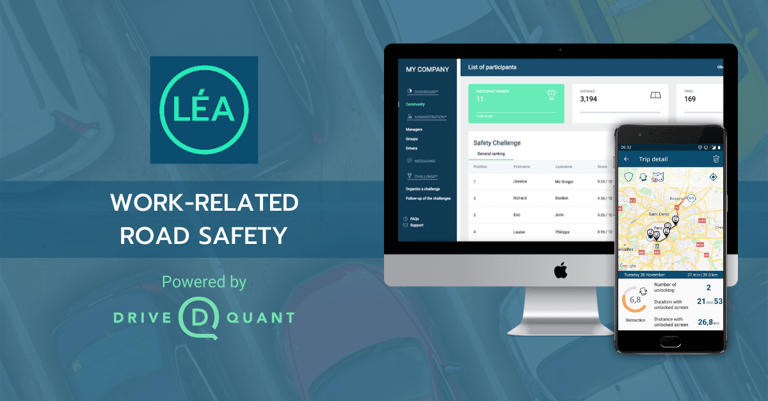 LÉA was born from a tragic observation: there are 1.35 Million road traffic deaths every year, representing one death every 24 seconds worldwide. This is the leading cause of workplace death. This is even worse in low-income countries, which concentrate only 1% of the world's vehicles but 13% of all deaths
Mobile phones to help improve road safety
LÉA is a universal tool for improving road safety and raising awareness of the use of the mobile while driving. It is a turnkey telematics solution based on a mobile application (LÉA by DriveQuant) that can be downloaded by employees on iOS and Android. This application allows the fleet manager to carry out a diagnosis of driving behaviour in the company, to help his employees improve their driving skills through embedded automated coaching features (driving tips), but also to create commitment by rewarding good driving behaviour through the organisation of driving challenges.
Hardware-free, and fast to deploy within fleets
On the operating side, the system is simple to implement. No dongle or telematics box are required. Once installed on the driver's smartphone, the application automatically detects motorized trips using the smartphone's sensors. Driving data is then collected and driving behaviour analysed in real time. After each trip, LÉA by DriveQuant gives the driver indicators that reflect his driving: a safety score and a distraction score. Finally, a trip history is available in the application so that each employee can follow his progress, access driving tips and try to become a better driver by improving his scores.
A detailed assessment of driving
LÉA by DriveQuant evaluates road behaviour by providing a safety score (between 1 and 10) calculated according to the type of vehicle (physical characteristics), the number of detected high-risk driving events (sudden acceleration and braking, crossing adherence thresholds) and the road context (traffic density). The distracted driving score (between 1 and 10) is calculated on the basis of the number of times the driver unlocks the smartphone screen detected during a trip, but also the time spent and the distance covered with the screen on.
Gamification and interactions with the driver for enhanced application use
The solution is managed from a web platform for driver administration. This interface allows the fleet manager to invite his coworkers to install the application, organise drivers into groups, monitor their performance, create driving challenges based on the driving scores, or even send messages to drivers directly into the application.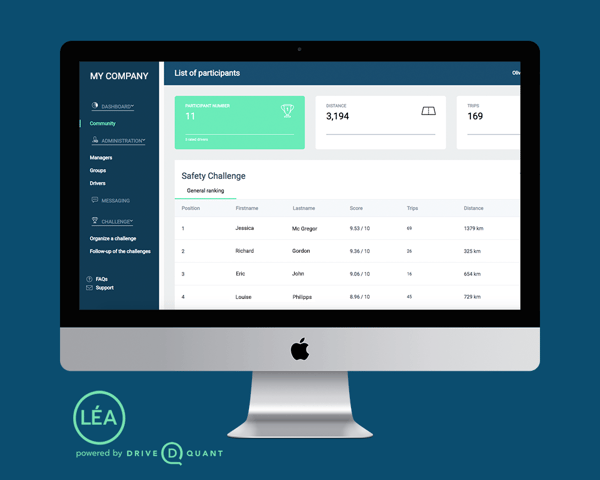 Philippe Moulin, CEO and co-founder of DriveQuant explains:
« The development of services to improve road safety is truly part of DriveQuant's DNA and missions. With LÉA, we are taking a step further towards the democratization of a technology resulting from several years of R&D within IFP Énergies nouvelles (formerly the French Petroleum Institute). For example, this solution can be deployed alone; prior to a training to identify drivers who need advice the most; or post-training to validate learning outcomes. »

Anthony Corbeaux, Chief Marketing Officer at DriveQuant adds:
« With LÉA, we are responding to the needs of SMEs that we have met that wish to benefit from mobile telematics, but which are not always able to allow resources to acquire their own mobile white-label application or to integrate our services into an existing application. We look forward to supporting them in reducing road risk within their organisations »
Offered in the form of a monthly subscription, LÉA is simple to deploy without any logistics or setup costs, nor any obligation. More info here: