DriveQuant is launching a connected service to detect smartphone usage while driving. The French company wants to draw attention to the problem of distracted driving, responsible for one in ten physical accidents, and to provide a concrete solution for professionals to reduce this road risk.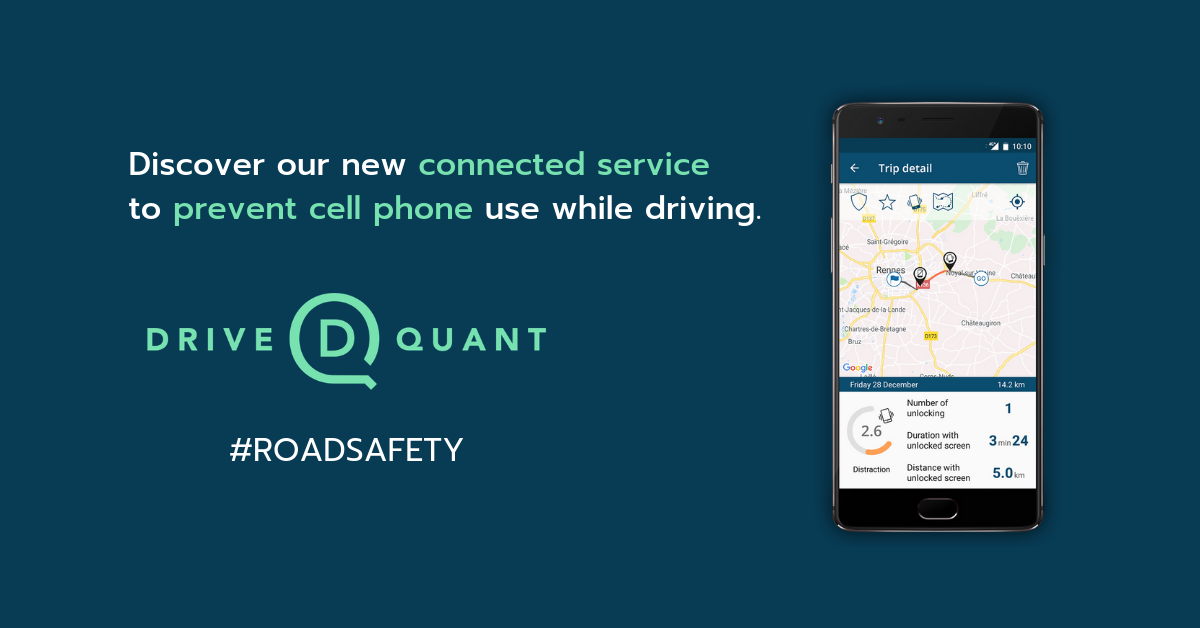 Road accidents remain, with more than half of all deaths at work, the leading cause of death in the workplace. Among the reasons for this, the use of smartphones while driving is a major contributor. While ten people die or are seriously injured every day in France as a result of using their mobile phone while driving, 60% of professionals admit to using their phone while driving every day (source: Fondation Maif - IFSTTAR Barometer on smartphone use while driving).
New connected service to help fleets fight smartphone use https://t.co/iYyNnBr18o pic.twitter.com/UYtVotEwbb

— Fleet World Group (@FleetWorldGroup) 16 mai 2019
The distracted driving indicator developed by DriveQuant is based on the detection of phone use by the driver of a moving vehicle. For example, a driver can manipulate his mobile phone to make or answer a call, read or answer a received message,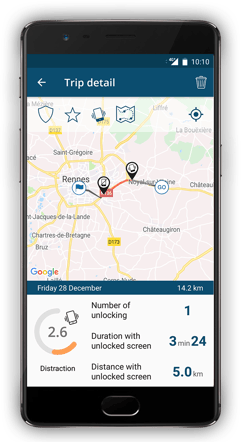 open a navigation application, browse the web... These are all events that are automatically detected and a distracted driving score is returned to the driver after each trip. Between 1 and 10, it takes into account in particular the number of screen unlocks, the time and distance achieved with the screen on for each of the detected motorized trips.
This innovation completes a range of connected services for professionals (fleet managers, insurers, etc.) such as safety and eco-driving scores, fuel consumption and tyre and brake wear estimation, drivers coaching and the creation of driving challenges. As a reminder, DriveQuant services are available in three distinct forms: API (application programming interface), SDKs (set of tools to help develop mobile applications), or via turnkey white label smartphone applications.
#RoadSafety: our new connected service to detect and fight against smartphone use at the wheel in the news 📰 @FleetWorldGroup 👉 https://t.co/od9aYUW2KD // 📰 @telematicswire 👉 https://t.co/NHJSjLTdRq 🛡️🚘🚚🚛 #mobiletelematics pic.twitter.com/ABa4q1GKIa

— DriveQuant (@DriveQuant) 20 mai 2019
Philippe Moulin, CEO and co-founder of DriveQuant explains: « Today, the smartphone replaces many accessories within the vehicle itself: GPS, music player, internet access... It is important to know that phoning while driving increases the risk of an accident by a factor of three and reading a message while driving by a factor of at least twenty-three! One of DriveQuant's main missions is to provide concrete solutions to reduce this road risk. The development of this connected service for detecting smartphone use at the wheel has thus become a matter of course. »
To learn more about this new service and test it in your company, or to find out more about another DriveQuant connected service contact us!