An insurer committed to road safety
MUA is an insurance and financial services company committed to developing innovative services for communities in Mauritius, East Africa and the Indian Ocean. MUA has over 100 years of experience in Africa and employs 825 people in 30 branches.
As part of its "Transition 2023" strategic plan, which aims to brand a strong regional cultural identity, significantly increase activity and implement major transformation projects, MUA wanted to offer all Mauritians an innovative solution to make the roads safer.
The insurer therefore opted to run a road safety programme. The technological choice was quickly made in favor of smartphone telematics for several reasons:
The affordable cost of the solution

The universality of the technology

The accuracy of the driving analysis

The quality and customisation options of a white label app
Launch of the Drive By MUA programme and application
After surveying the market, MUA chose DriveQuant because this supplier stood out on the 4 factors mentioned above. MUA is therefore launching its road safety programme with the release of the Drive By MUA application, which is DriveQuant's white-label app customised in MUA's colours. This app automatically detects vehicle journeys and provides safety, distraction and eco-driving scores.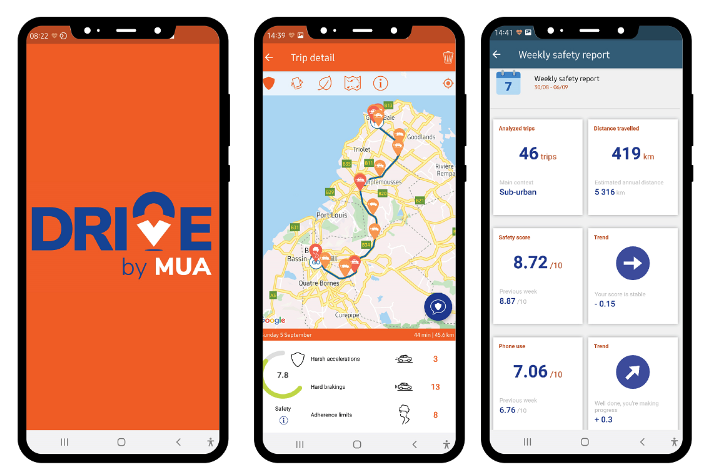 A successful market launch with excellent client feedback
4,500 registered drivers in a few weeks
MUA launched a solid communication campaign to celebrate the launch of the project with:
An engaged community
Early adopters continue to be invested in the programme by taking part in the new driving challenges.
A top-rated mobile application on iOS and Android
Users have expressed their great satisfaction with the application, rating it over 4 stars on the stores.